No result found for your search.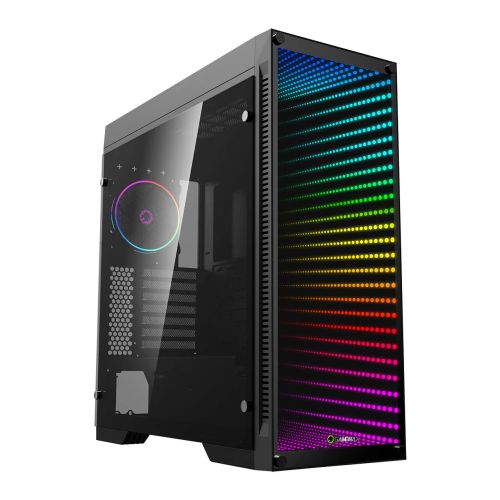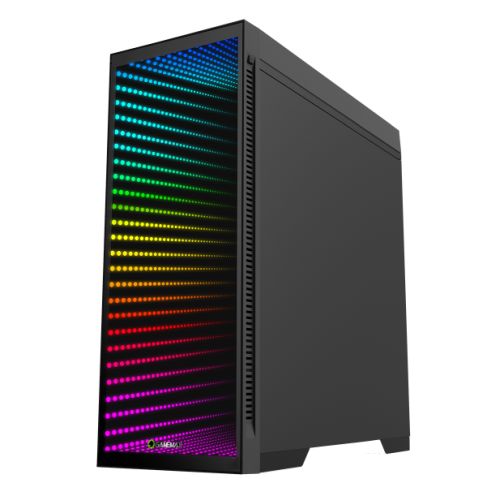 Microchoice
GTX 1650 Refurbished Gaming PC Core i5-4570 - 8GB - 480GB SSD - Windows 10 - GameMax Abyss
Available:
Only 0 item in stock
0 item in stock
In stock
Out of stock
Back in stock
Description
Technical specs
Grading info
Delivery
Warranty
Reviews
🔥 Unleash Your Gaming Potential with Our Refurbished Gaming PC! 🔥

Are you ready to step into the world of immersive gaming like never before? Look no further! Introducing our spectacular Refurbished Gaming PC, packed with power and style that will elevate your gaming experience to new heights.
🚀 Performance That Packs a Punch: 🚀 Inside this sleek and menacing Sauron case lies a beast ready to conquer the gaming universe. Powered by the robust Intel Core i5 4570 processor, this PC ensures that no game is too demanding. Say goodbye to lag and hello to seamless gameplay!
💥 Graphics that Astonish: 💥 The heart of this gaming machine beats with the formidable NVIDIA GTX 1650 graphics card. Brace yourself for breathtaking visuals and fluid gameplay. From epic battles to stunning landscapes, every pixel comes alive, pulling you deeper into the gaming world.
🚀 Speed and Efficiency: 🚀 With 8GB of lightning-fast RAM, multitasking is a breeze. Run your favourite games, stream, and chat with your friends simultaneously, all without missing a beat. Our Refurbished Gaming PC ensures you're always ahead of the competition.
💡 Reliable and Ready: 💡 Refurbished to perfection, this gaming PC is not just about raw power—it's about reliability. Each component has been meticulously inspected and tested to meet our rigorous standards. We believe in delivering a product that not only performs but lasts.
🌟 GameMax Abyss Gaming Case 🌟
The GameMax Abyss ARGB is an upgrade from the RGB edition and joins the already popular Abyss family. An exceptional looking gaming case this will look great in any set up and is one of the most striking cases available.
The front panel made using an infinity mirror with ARGB lighting and ventilation on both sides of the front panel provides direct airflow in to your system.
It is not just the aesthetics of this case that sets it apart from a lot of Full-Tower cases but the functionality of this case is also very impressive, with room to mount a total of seven fans and the ability to fit a 360mm radiator on the front or top and the rear can fit up to a 120mm radiator.
The Abyss ARGB comes with a pre-installed ARGB hub allowing for stunning lighting effects and easy connection to your system. You can connect up to five fans and two LED strips to the hub and sync all to your motherboard using the 3 Pin AURA connection, please note the hub to motherboard AURA connection is not included and will needed to be purchased separately. Please note the included hub supports a total of 5 fans.
The left side panel is made of a 4mm tempered glass allowing you to show off your internal components and lighting.
Situated on top of the Abyss ARGB is two USB3.0 ports, two USB2.0 ports, two fan controllers, HD Audio and Mic Jacks.
In line with the GameMax ethos this case offers style, performance and the ultimate experience.
🛠️ Upgrade-Friendly Design: 🛠️ With an upgrade-friendly design, this gaming PC evolves with you. As technology advances, so can your gaming rig. Whether you want to boost the RAM, upgrade your graphics card, or enhance storage capacity, the possibilities are limitless.
🎉 Experience Gaming Nirvana: 🎉 Don't miss out on the opportunity to own a gaming PC that redefines your gaming experience. Elevate your gaming to a new level, whether you're into high-octane shooters, immersive RPGs, or competitive eSports titles.
Don't wait! Upgrade your gaming setup with our Refurbished Gaming PC today and embark on an unforgettable gaming adventure. It's not just a PC; it's your gateway to gaming nirvana. Grab yours now and conquer the virtual world like never before! 
GameMax Abyss Gaming PC
Power Cable
Processor      
Intel Core i5-4570 3.1 GHz
RAM
8GB DDR3 RAM
Storage      

480GB SSD (Brand new with 3 years Warranty)

 

Graphics      

GTX 1650 4GB DVI, DP, HDMI

Sound
Onboard
Optical Drive
N/A
Connectivity Options
WIFI Ready, Gigabit Ethernet
Ports / Interfaces

4x 2.0 USB Ports, 4x USB 3.0 Ports
1x RJ-45
1x DVI
1x HDMI
2x Line-in (stereo/microphone)
2x Line-out (headphone/speaker)


 
Operating System
Windows 10 Pro 64-Bit
Warranty
1-Year RTB Warranty on PC - Brand new parts have separate warranty of up to 3 years
Dimensions

(WxHxD) 225 x 531 x 515 mm
Refurbished Laptops - Grading Guidelines

Grade A Excellent condition

• Screen: No cosmetics imperfections.

• Keyboard and trackpad: No cosmetics imperfections.

• Body: Cosmetic imperfections, if present, are only a small number of very light micro scratches, invisible when holding the product 30 centimeters away.

• Battery: Tested to exceed 80% capacity relative to new.

Grade B: Good condition

• Screen: May have a maximum of 1 dead pixel, some light and superficial scratches/blemishes, all barely visible when the screen is on.

• Keyboard and trackpad: It may have light scratches, slighly worn touchpad, barely visible when holding the product 30 centimeters away and imperceptible to the touch.

• Body: It may have light scratches, barely visible when holding the product 30 centimeters away and imperceptible to the touch.

• Battery: Tested to exceed 80% capacity relative to new.


Grade C: Acceptable condition

• Screen: It may have a small number of light and superficial scratches, a maximum of two dead pixels all barely visible when the screen is on.

• Keyboard and trackpad: It may have light scratches, worn/shiny touchpad.

• Body: It may have scratches visible when holding the product 30 centimeters away and perceptible to the touch. It may have a maximum of three minor dents or cracks.
• Battery: Tested to exceed 40% capacity relative to new.
Refurbished Desktop PCs


Grade A+ : Brand new case and other parts
These are PCs that have been rebuilt into a brand new case and will include brand new parts such as the hard drive, graphics card.
Other parts such as the motherboard are normally refurbished and fully tested. The best of both worlds!


Grade A
: 
Excellent condition
• It will only have some very light scratches that are near invisible when holding the item 30 centimetres away. 


Grade B : Good Condition
• It may have light scratches, that are visible when holding the product more than 30 centimetres away.
Grade C : Acceptable Condition
• It may have more significant scratches, scuffs that are noticable wihen holding the item more than 30 centimetres away and perceptible to the touch. It may have a maximum of three minor dents.
New (Open Box) : Brand new
• Brand new condition, free from any cosmetic issues (unless otherwise stated in description)  - may not come in original box.

Brand new:
• As the name states, these items are brand spanking new and come in the original box.
Warranty info - All grades are backed with a one-year Guarantee and cosmetics do not affect the functioning of the device.
We normally dispatch the same working day before 2PM and the following 
shipping methods and timescales are shown below:
 UK Delivery 
Free Delivery  - Monday to Friday 2-5 Working Days
Next Working Day Delivery - Monday to Friday - Order before 2PM
Saturday Delivery - Order before 2PM on Fridays
International Shipping to a number of European Destinations..
Rates vary depending on the number of items you order and can be viewed once you add the item to the basket and proceed to the checkout page.

Upgrades
Upgrades to systems can take slightly longer to process so please allow up to 7 working days depending on the amount purchased. This can also sometimes affect "Standard" and "Next Working Day" delivery methods. Please speak to one of our Live Chat agents to find out if your required upgrades will affect your delivery times.
Returns Policy
If in the first 14 days after you purchase your item you change your mind and you feel it's not suitable for you. You must inform us of your wish to cancel in writing either by letter or email within a period of 14 days. The period of 14 days begins on the day after you receive your goods. You must take reasonable care of the goods and not use them.

You can return the item to us at your cost and we will refund you in full less any postage costs. Item must be returned in the original packaging in the condition you received it in to be eligible.
Returns & Warranty information
Refurbished Laptops and PC come with a 12 Month RTB Warranty a (unless otherwise stated). Warranty does not cover software related incidents through user error, such as tampering with software settings, Virus/Spyware infections etc.  Refurbished laptops are will have a battery that exceeds 80% capacity relative to new. However please note batteries are classified as consumables and not covered under your warranty.
Warranty & Returns Procedure
All costs for returning the goods are to be met by the customer, we cannot accept liability for returned goods lost or damaged during transit. You are asked to wrap the product carefully to avoid damage. You are also advised to return goods by recorded delivery, registered post, or by courier and insure the consignment to cover its value. Proof of postage will not be accepted as proof of delivery. Please remember to enclose your name and address, and a copy of your purchase receipt.
If we collect the goods from you, we will charge you for the cost of collection (and we may if we wish deduct this from your refund).
Please Note: Orders returned  that have been subject to physical damage, accidental damage, neglect, or user abuse will be rejected and returned to you along with a redelivery charge. Alternatively, we may charge a higher restocking fee based on the condition of the product. 


1. You must first obtain a returns reference number by submitting a support request via our website.
Goods returned without a valid returns number will be rejected. Return to Base warranty warrants the PC system to the end-user, against defects in materials and workmanship, which begins the date you receive the goods. If you have received a repair on a system then the warranty period is still only valid from the date you originally received the goods.
2. If your order arrives damaged or has missing items, you must report this via email within 48 hours of receipt. We cannot be liable for any of these issues should they arise after this timescale.

3 If the machine arrives to you DOA (Dead on arrival) then we will collect at our cost (UK only) DOA goods must be reported to us in writing within 2 working days of receipt of goods. After this period the end user is responsible for the cost of shipping the machine to us, and the packaging of the machine.  We are not liable if the machine is improperly packed resulting in damage during transit.  Please retain all the packaging together with any additional enclosures, manuals, software, as this will assist in returning the product in the correct packaging.

4. The warranty covers the hardware, and we will rectify the fault within a reasonable amount of time from the point it is agreed the machine has a hardware fault with our Technical Support team.  Consumables such as batteries, ink, blank discs are not covered under this warranty.

5. The Return to Base warranty covers only those defects which arise as a result of normal use of product, and do not apply to any: Improper & inadequate maintenance or modification.  Repairs carried out by non-authorised persons.  Damage caused by lack of ESD protection.  Software, interfacing, media, parts, or supplies not provided or supported by Compu-zone  Operation outside the product specifications.  Physical damage, accidental damage, neglect, or user abuse.  Normal wear and tear.  Consumables i.e. batteries, ink cartridges, CD media, viruses or malicious software.

6. If there is no fault found or the problem has been caused by third-party software, Viruses, Malware, user error or physical damage and any of the reasons stated in section 5, a no-fault found charge may be applied, you will be emailed and phoned to confirm this charge within 7 days of the item being tested, you will also be charged return carriage for return of your goods.

7. Software purchased separately will be supported by the manufacturer of that software and not under this warranty.

8. We will support and re-install software that we have provided pre-installed on the system, we will not support third party software and re-installation of third party software will be chargeable.

9. No refunds or compensation are possible due to system failure, loss of data, loss of business, repairs or delays in repairs.

10. The warranty applies to the original owner of the PC system and is non-transferable.

11. We reserve the right to repair or replace any faulty components. 

12. The warranty is void if, there is any attempt made to inspect, diagnose or repair the system by a non-authorised third party, or if the system is inadequately or improperly maintained or modified or if there are any outstanding charges.  If the end user wants to upgrade please contact the Technical Support department prior to upgrading for authorisation to break any warranty seals.

13. All repairs and replacements will carry a 90 days warranty or the original warranty balance, whichever is greater.

14. We reserve the right to replace discontinued products that are still under warranty with the nearest equivalent specification product.

15. Your warranty covers parts and labour from the date of purchase until expiry of the warranty, the length of your warranty is available on the product information page.  We recommend that you print this document and the product that you have ordered, you should also print a copy of your receipt and keep this together as we may ask you to provide this information for a warranty return.

16. This document is not proof of purchase or proof of warranty, proof of purchase (ie. Your Invoice) can be printed via the My Account section of our website.