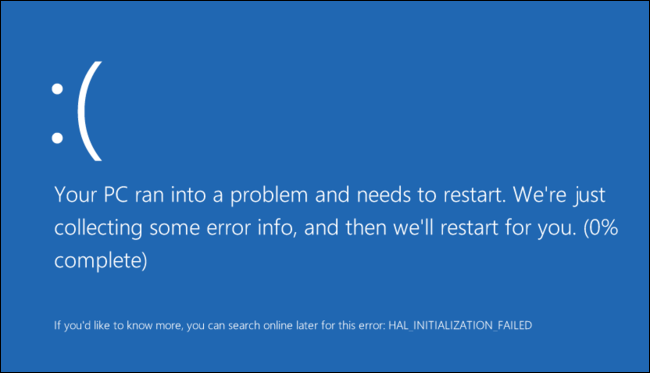 Your PC ran into a problem and needs to restart
Occasionally Windows 10 may run into a problem and present you with the following screen -
 This can be caused by a number of problems including -
Virus/Malware infection
A failed Windows Update
An incompatible Hardware/Software change
Accidental deletion of a critical system file
Using the Advanced Startup Options can help you to overcome this message and boot into Windows. Usually, Windows 10 will automatically show the Advanced Startup Options screen after it has failed to boot into Windows a few times, but if it doesn't you can force it to show by doing the following -
    -Turn your computer on and off three times. While booting, make sure you turn off the computer when you see the Windows logo.
    -After the third time, Windows 10 will boot into diagnostics mode. The Advanced options recovery screen should now be displayed - 
Click the Troubleshoot button and a new set of options will be displayed -
Reset this PC
This normally fixes most problems, however, depending on the options. For example "Remove Everything" will erase all files and settings, programs/apps.
Or "Keep my Files" will just uninstall Apps.

Advanced Options - you may get a screen similar to below (depending on the version of Windows 10 installed)
System Restore will allow you to revert the computer's state (including system files, installed applications, Windows Registry, and system settings) to that of a previous point in time. System Restore Points are usually created automatically before the installation of a program/app or a Windows Update. This is usually a good method to try first.
Automatic Repair will attempt to do exactly what it says. Windows will try to detect any potential problems that are preventing successful boot-up and fix them automatically.
Startup Settings will show a list of various boot-up methods, including Safe Mode. Safe Mode attempts to boot Windows using a very limited and primitive set of drivers. This can be used to diagnose incompatible/corrupt device drivers that are preventing Windows from booting up. A classic example of this could be recent graphics card or similar device driver has updated, and is not currently compatible with Windows 10. Or simply the driver installation failed and corrupted the previous version. If your System is able to boot up into Safe Mode, it is almost a certainty that a device driver is to blame. Run a System Restore to take the computers state back to a point before any new drivers were installed and work from there.